Today was the end of a new beginning for 43 people who went All the Way. Yes it was the end of the 2012 Ride for the Relay but the beginning of a new awareness of who we are, what we do and the friends we have made. Please enjoy the pictures and let all the Riders know how proud you are of them and the good they do.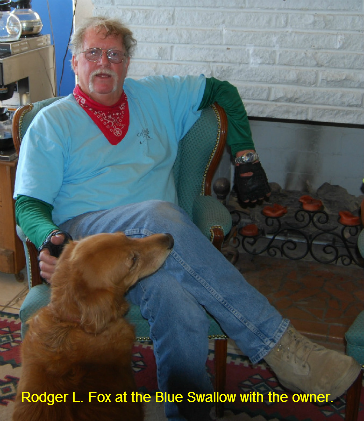 This is my 7th year for the Ride for the Relay. I started riding motorcycle's in 1963 when I was in the Air Force living in Japan. I never got into any group riding until 2004 when I joined the Goldwing Road Riders Association. Two years later, 2006, I founded the Ride for the Relay. My wife Sue and I have been married for 9 years and together with our combined families have 5 children and 6 grandchildren. Together we own and operate Times Square Sewing Complex in Jacksonville and Quincy, Illinois. I have no idea how long I will do the Ride for the Relay but plans are on the table for 2013.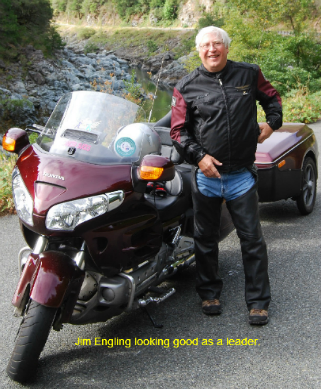 Jim has been a leader for the Ride for the Relay in 2008, 2010, 2011 and 2012. He is my right hand man when it comes to going on all of Old Route 66 that we can find. Jim and Steve Conro get all the GPS coordinates together for everyone and help everyone while we are on the ride. I couldn't do it without them. Jim has a very special lady in his life and all of us that know April, love her and hope that some day she will be part of the All the Way Gang. He is retired from the Lyons Township High School and has been riding for 30 years. Send Jim and eMail and let him know how much we appreicate him:
jime248@gmail.com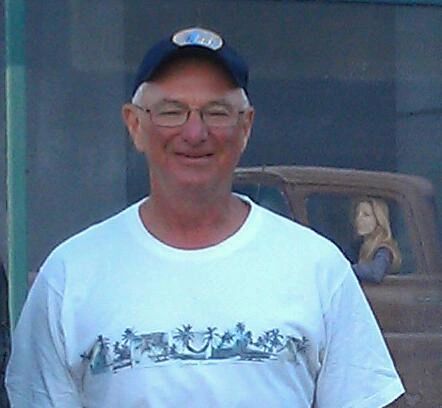 Gary Gallo. I'm a four time member of the "All The Way Gang" 2008, 2010, 2011 and now 2012. I live in Morris, Illinois. I've been married to my lovely wife Patty for 45 years. We have 3 married children who have given us 7 wonderful grandchildren. We all live in Morris and are a very close family. I retired from Dresden Nuclear Power Station at the age of 53 with 35 years service in 2003. My wife and I enjoy our family, like to travel, but also like to come home. We love to cruise and gamble (a little to much gambling and not enough cruising). The "Ride For The Relay" (RFTR) has become so much more for me than just the motorcycle ride that I assumed it was going to be in 2008. It has given me much more than I have given it. Don't get me wrong, the ride is great and scenery is fantastic as it changes from the the plane states to the desert, mountains and finally the Pacific Ocean. However the true gift of the RFTR is the people you meet and the friendship's that are created. I am so blessed by the friends I now have. Rodger Fox has become the brother I never had. We have traveled together many times. And he is only one of the many new friends the RFTR has given me. You go for the riding adventure, but you will come back with new friendships. God bless everyone. Send Gary an eMail about how proud you are of him at:
gallog49@gmail.com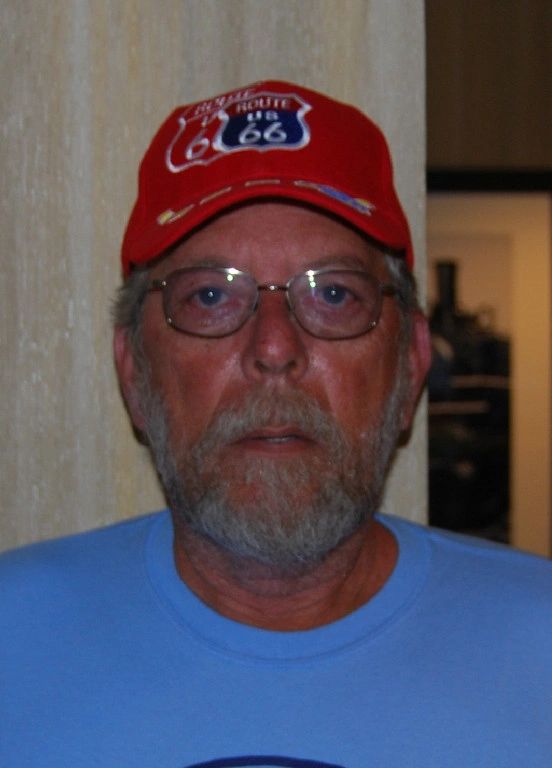 Jim Nichols, Quincy, Illinois. Jim has become a good friend, he has traveled the Mother Road with me 5 times and I will get him to give a Bio or I will take him down. Be watching for it.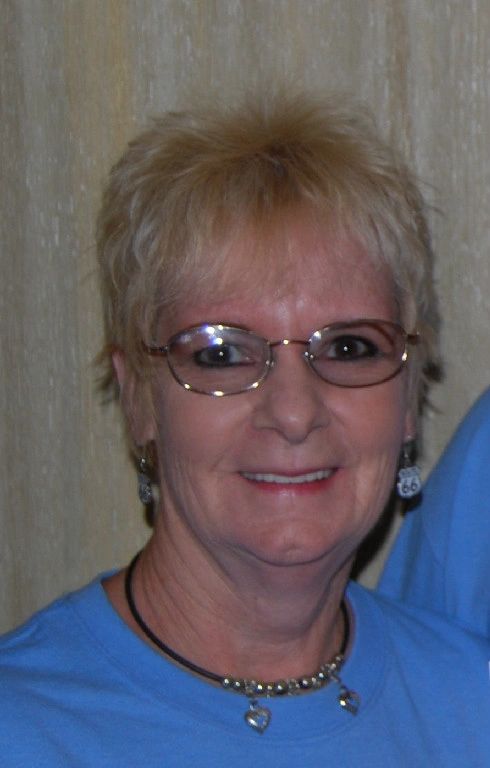 Vikki Kirsch put another year under her belt riding with Jim Nichos all the way. Vikki is from Quincy and went with us in 2009. Let her know you are proud of her by dropping her a line at vikki1620@live.com Vikki we need a Bio.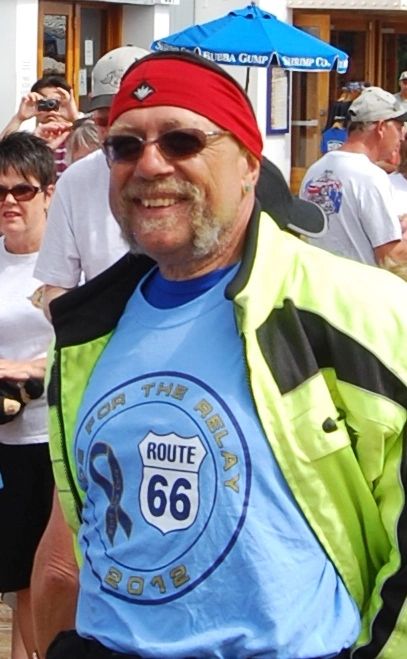 Michael "Outlaw" Spivack, he really wants to be called Green Jacket but Outlaw suits him better. This was Mikes second trip with the All the Way Gang and is the only Guy I know that his got Route 66 Tattooed on his arm because of the Ride.
Mike Spivack not only become a member of the All the Way Gang 2011 & 2012 but also become a true to life Route 66 Roadie with this great Route 66 Tattoo. Mike is a retired computer consultant. He lives in Cape Cod, Massachusetts with his wife Carolyn. Here is what he had to say: "The Ride for the Relay out and back were the best riding adventures I HAVE EVER HAD. Route 66 has definitely left it mark on me (there are photos somewhere of the Route 66 tattoo). Would I do the Ride for the Relay again.....you bet I would. All I need is a kitchen pass". Here is what I have to say: Mike I have your 2013 kitchen pass ready, please pick it up in Chicago, Illinois August 24, 2013 Encourage mike to get more Tat's next year by eMailing him at: m_spivack@hotmail.com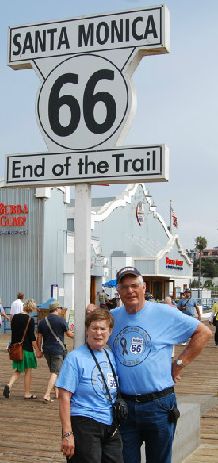 Buzz & Marinan Brewer came on the ride from Dothan, Alabama. I can't say enough good things about friends like this. They were part of the All the Way Gang in 2008 and have remained good friends. I will get Buzz and Marinan to give me their updated Bio but until we get it please let them know how proud you are of them for doing the Ride for the Relay again:
marinan@graceba.net
Dave and Carol Slocum (The Aliens) come on the ride from, Charlotte, MI. Each riding their own motorcycle and enjoying their ride so much, I think we will see them next year. Here is what they had to tell us in their Bio:
I married my high school sweetheart 43 years ago and to celebrate and remember our family members taken by cancer we went on the RIDE FOR THE RELAY to help Rodger beat this disease.
I am a Viet Nam and retired Army veteran with 23 years service and a retired over the road truck driver. Carol worked for a company that made leaded glass windows and doors, then as a seamstress, and later as a Medical assistant. Since our retirement we have been keeping busy with our family and volunteering in our community.
We are the proud parents of three children, two boys and a girl; and eight wonderful grandkids, four boys and four girls ages 8 to 16. All three of our children and our son-in-law ride their own bikes (daughters-in-law are co-riders) and we have gotten the chance to do some family rides with them.
I have been a biker since about age 14 and have owned several bikes. Currently I ride a 1600 Kawasaki Vulcan classic. Carol started riding her own bike about six years ago and has an 1800 Goldwing with a towpac. Since our retirement we have had the opportunity to go on several long rides together and look forward to another trip on Route 66.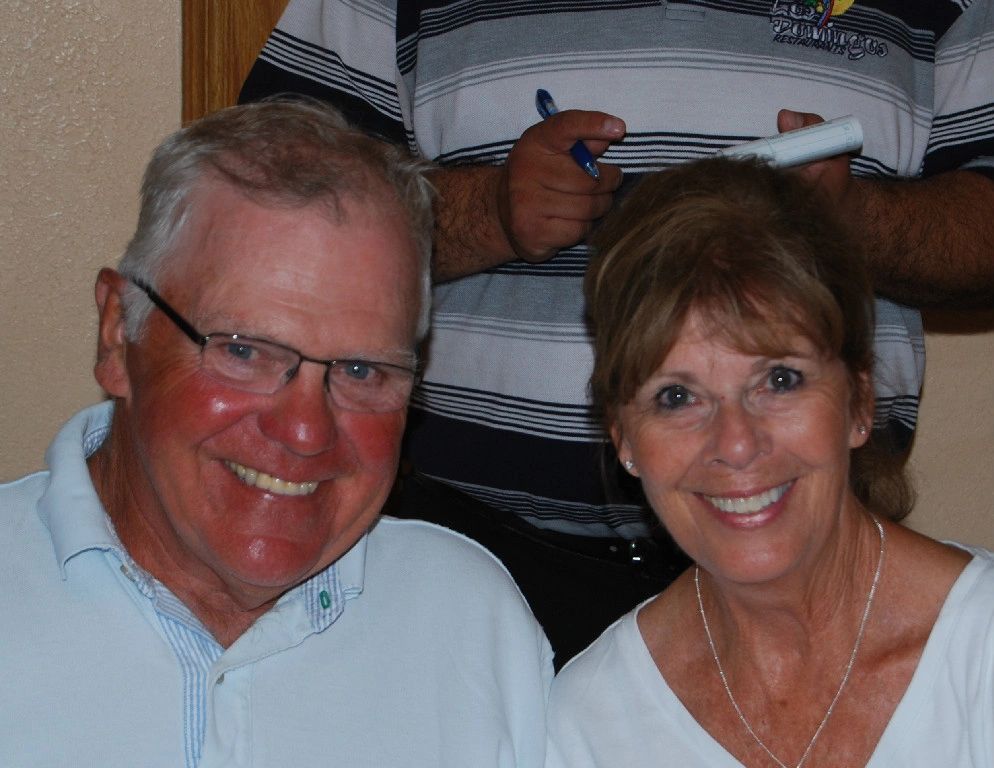 Delmar and Joyce Miller have been married for 49 years and have three children and seven grandchildren. All of our children live within 25 miles of us so we feel very fortunate to have them and the grandchildren so close.
Delmar worked at PTC (a tubing company), for 44 years as a foreman and supervisor. He retired in 2006 but continues to farm. Riding Route #66 has been on his bucket list for quite some time and now he has finally gotten his wish. Hopefully, we will ride the route again, not only for the ride, but the friendships that we established were great.
Joyce worked as a medical assistant for a few of years before and after her marriage. After taking some time off to nurture the children and get them established in school, she went into the floral business and worked as a designer for 25 years. She retired in 2008 but is currently working part time as a secretary/receptionist at her son-in-law and daughters' GMC dealership and is enjoying it very much.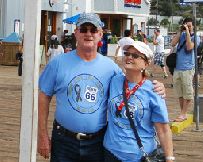 Clark (66 on Route 66 this year) and Patsy Graves come on the Ride this year from Alton, Virginia and we are very proud to have them as a couple. Clark first did the Ride for the Relay in 2008 and we are very happy that he brought his new bride on the Ride this year. Clark graduated High School in 1964, went on to East Carolina University and graduated in 1973. Clark has retired as Post Master and retired Navy Reservist and is now a Tree Farmer in South-Side Virginia. Patsy worked as Dan River Mills Timekeeper, worked Globmans Department Store and Belk Department Store and Carter Bank & Trust in Danville, Virginia. Patsy's eMail is patsyg7@verizon.net and Clark's eMail is etcgraves@gmail.com please let them know how special they are to the Ride for the Relay and we hope to see them back next year.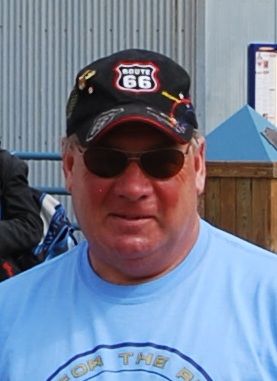 Gary Indorf. Dalton, Ohio is a 3 time All the Way Gang member and had done the Mini Ride several times, comes from Ohio to Illinois to help us fundraise. I guess it is safe to say he is family. I hope to get a full Bio on him shortly.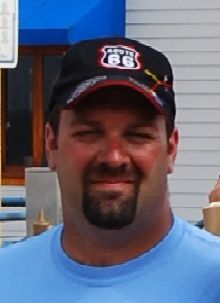 Matt Indorf, Dalton, Ohio son of Gary Indorf is now a two time All the Way Gang member. He too has become a member of our family just because he is so much fun and he JUST WANTS TO RIDE MAN!!! We will try and get a full Bio on Matt too.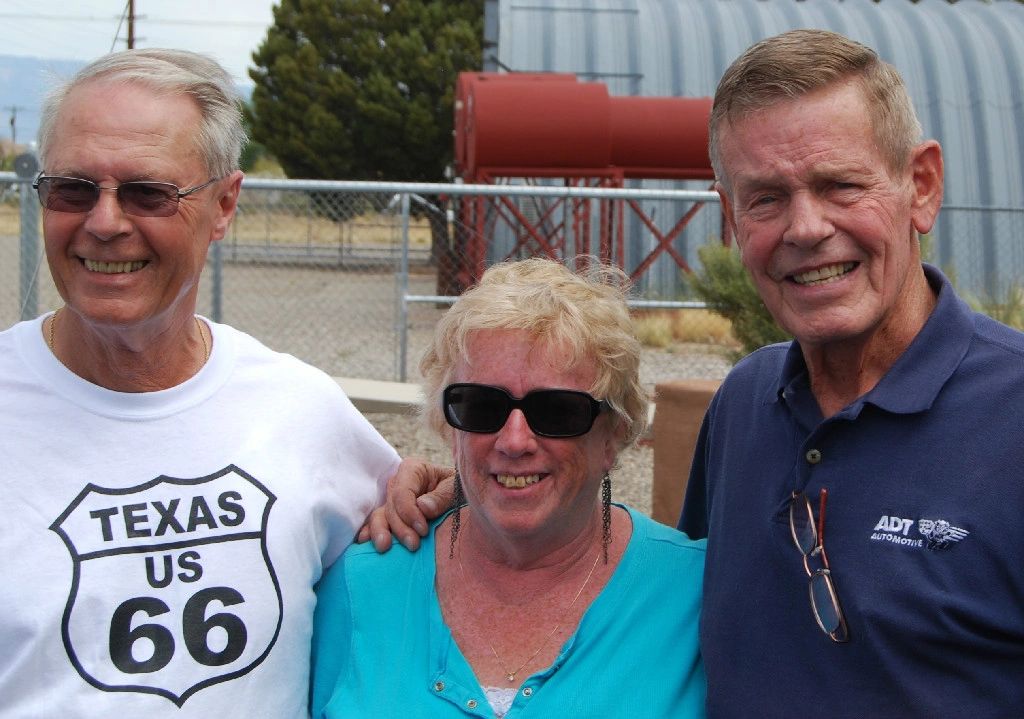 Doug and Linda Bird have made Waverly, Iowa their home since they were married 46 years ago. It is here that they raised two children and have been blessed with five wonderful grandchildren. The first day of this years Ride For The Relay also marked Doug's first day of retirement after 28 years as the Building Official for Bremer County, Iowa. Doug now enjoys spending time woodworking and riding. Linda has spent the last 26 years as the office manager for Ramker Construction of Waverly and looks forward to joining Doug in retirement soon. Both Linda and Doug are cancer survivors with Linda just celebrating 7 ½ years and Doug 1 year. We have lost many dear friends to cancer and felt that Rogers's efforts to find a cure was something we wanted to participate in. We began riding in 1981 and during this time have toured all 50 states, many of these trips took us on portions of Route 66 but we never had the opportunity to ride the entire route. The camaraderie on this ride is something we will never forget. We Ride to Live

Doug and Linda Bird pictured here with Bobby Unser. They were great fun and everyone hopes they will consider going again next year. Send them an eMail to: brddou@msn.com and let them know how proud you are of them for making the All the Way Gang. I know I am proud of them.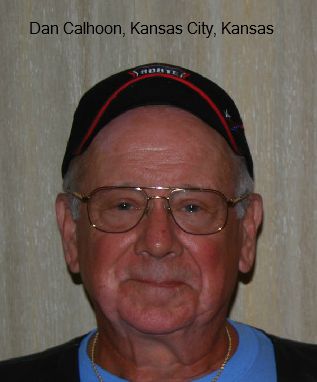 I was married to my lovely riding partner, Dee, for 36 years before I lost her. Between us we have 5 Children, 12 Grand Children and 6 Great Grand Children. I worked most of my life for General Motors. I started as an hourly employee and worked my way into management. I retired as a Senior Supervisor after 40.6 years.

Our first Ride for the Relay was like living a dream. We both grew up with the TV series Route 66, and for years we'd see the "Historic Route 66" signs along Interstate 40 on our many trips out West. We've seen the sites and taken the pictures but it's the people that keeps us coming back now. In Chicago we're all strangers, by Albuquerque we're friends and by the time we reach Santa Monica we feel like we have new family members. We met folks on that first ride we keep in touch with them to this day and hope we always will.

This was my 4th trip down the Mother Road and my 1st trip without my riding partner. The first two trips I was riding a 1986 Aspencade. We sold it and bought our 2006 White Wing, we call our DanDee Bike.

If anyone would have ask me in Colton, CA last year if I would do it again the answer would have been NO I will not do the 2012 Ride. However, I couldn't stand the though of our friends going to the Navy Pier or Santa Monica Pier without me and my memories of Dee. This year I did it by myself. I don't know if I can do it again without my partner but time changes things and we will see what happens.
Ride safe and God Bless You All. Dan & Dee Calhoon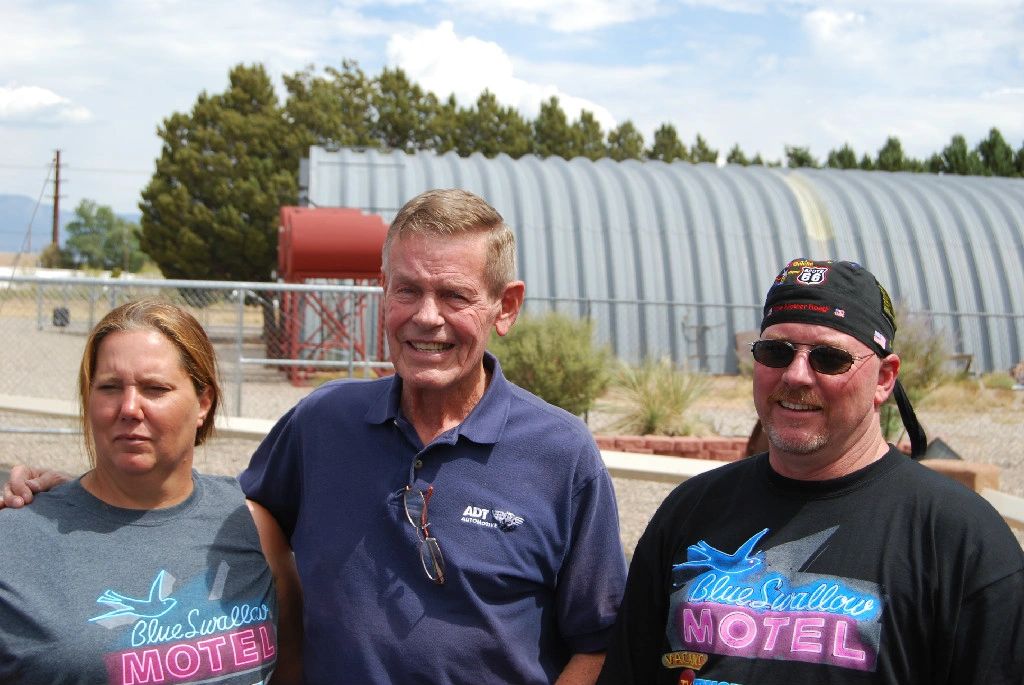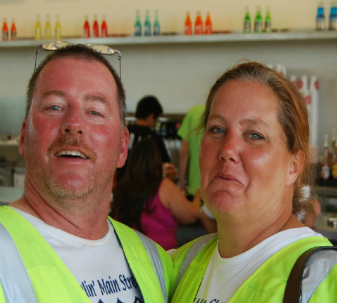 Scott (Scotter) & Christina Whitfield from Evansville, Indiana were so much fun and we all loved their NASCAR trailer, I think they had a little trouble with it on the way home but all in all I do believe they really enjoy becoming a part of the "All the Way Gang" family. I hope to get their Bio before to long, until then write them a note and congratulate them on a job well done. scotter70423@yahoo.com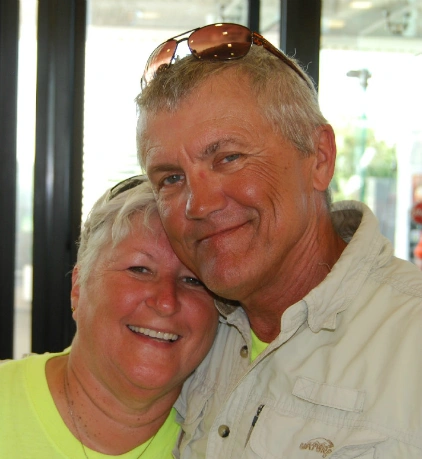 Mary Lou and I have been married for 42 years. We have 2 children, Brian, 41 & Beth, 39. We are also blessed with 3 grandchildren, 18, 17 and 11. I started dating Mary Lou in 1965 so we have been in a relationship for the past 47 years. It is hard to imagine when she wasn't an important part of my life. We look forward to many more enjoyable life experiences - doing things together. That is part of the reason for our participation in The Ride for the Relay. Our lives have also been touched by sadness brought about from cancer with our mothers and my brother.

I received my undergraduate degree from Quincy University and a Master of Arts in Counseling from the University of Illinois. I retired in January, 2008, having spent 37 years working as a Rehabilitation Counselor for the Illinois Department of Human Services. Mary Lou retired July, 2010, with her last employment as a customer service representative for a local financial institution. She is also a
licensed cosmetologist for the past 44 years.

Our current ride is a 2008 Honda 1800 trike. We have averaged about 10,000 miles a year, traveling all over the country. We love to camp, recently sold our Bunkhouse motorcycle camper and replaced with a 2011 33' toy hauler in which we plan on spending our winters. We have found a campground in Alamo, Texas, which we hope to visit soon for a winter stay. I also have an outlet for my 2 wheeled passion by tooling around Quincy on my 2006 Honda Rebel. Mary Lou prefers to enjoy the ride as a passenger, content to allow me the driving privileges while she enjoys the vistas.

They can be contacted at qcwinger@comcast.net or (if inactive), qcwinger@gmail.com


Steve & Elsie Neese from Quincy, Illinois will be getting us their Bio in before to long. Until they do send them an eMail and congratulate them for becoming a part of the 2012 All the Way Gang.
eagles1978@att.net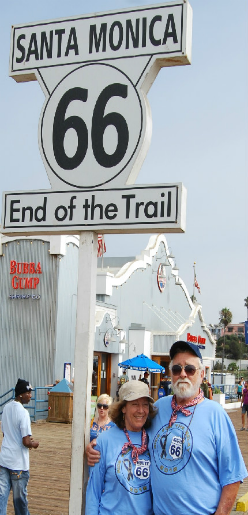 Bruce & Lynn Tidwell come on the Ride all the way form Columbia, Tennessee. I hope they will be getting us their Bio before to long. Not only did they enjoy the Ride but did a lot of camping out which they enjoyed. Send the an eMail and tell them how proud you are of them. brucetidwell@charter.net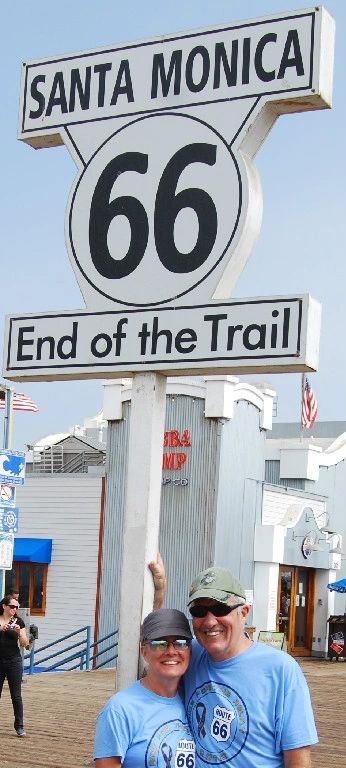 Dennis & Susan Schultz– started motorcycle vacations in 1984. Have ridden to all lower 48 states and 3 Canadian Provinces. RFTR is a Great Ride, with Great Folks, for a Great Cause. Enjoyed the ride and friendships made with the ride participants. Thanks to you Rodger for organizing such a great ride and your passion to keep it going. Also, many thanks and a job well done to the ride leaders Jim, Gary, Mike, and Steve. Proud to be part of the All The Way Gang 2012. Dennis and Susan Schultz joined the Ride for the Relay from White Hall, Michigan. I am looking forward to seeing them again on the Ride for the Relay 2013, send them an eMail and encourage to do it again: sdwschultz@charter.net


Terry and Norma Theriot joined our ride from Breaux Bridge, Louisiana. It seamed like Terry won about any contest we had and was the Grand Prize winner and took the $1000 instead of the camera, however, he donated back $500, thanks Terry and Norma. Now here is their Bio.

Norma and I both graduated from high school in 1974, Norma in Richmond, VA and I from Breaux Bridge, LA. We met in 1975 while both serving in the Army in San Antonio, TX and were married that same year. We have two children, Christen, a registered nurse and Ryan, a helicopter pilot in the Navy. We have five grandchildren ages 19 years to 3 months.-------------Norma retired in January 2011 after working for the State of Louisiana for 33 years as a mental health counselor.-------------I retired in January 2012 after working for the Farm Bureau for 23 years. I also retired from the Army National Guard at the rank of Major in 1997 after serving for 23 years and being activated for operation Desert Storm in 1991. I also served as a reserve Sheriff's Deputy for 8 years and in the volunteer fire department here for 20 years and served as Fire Chief or 7 years and retired in 2012.-------------I have ridden motorcycles all of my life and have had a motorcycle endorsement on my driver's license since I began driving. I have always wanted to travel the United States by motorcycle and Norma and I began that dream on a part time basis (as work would permit) in 2000 when we purchased our first Gold Wing after our son graduated high school and got the Navy to pay for college.--------------2012 was our first year of being retired together and we spent most of the year traveling by motorcycle, camper, cruising, driving and flying around this beautiful country.

Terry and Norma will be going on our April 28 Cruise and will be joining us again on the "2013 Ride for the Relay". Terry will be taking care of our 2013 Raffle.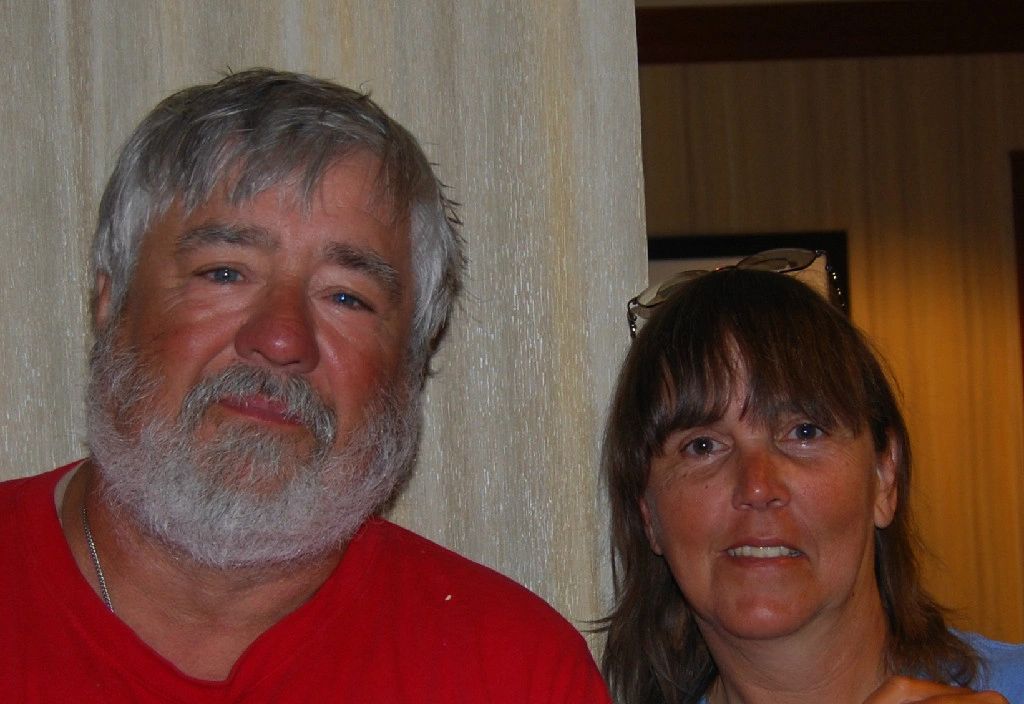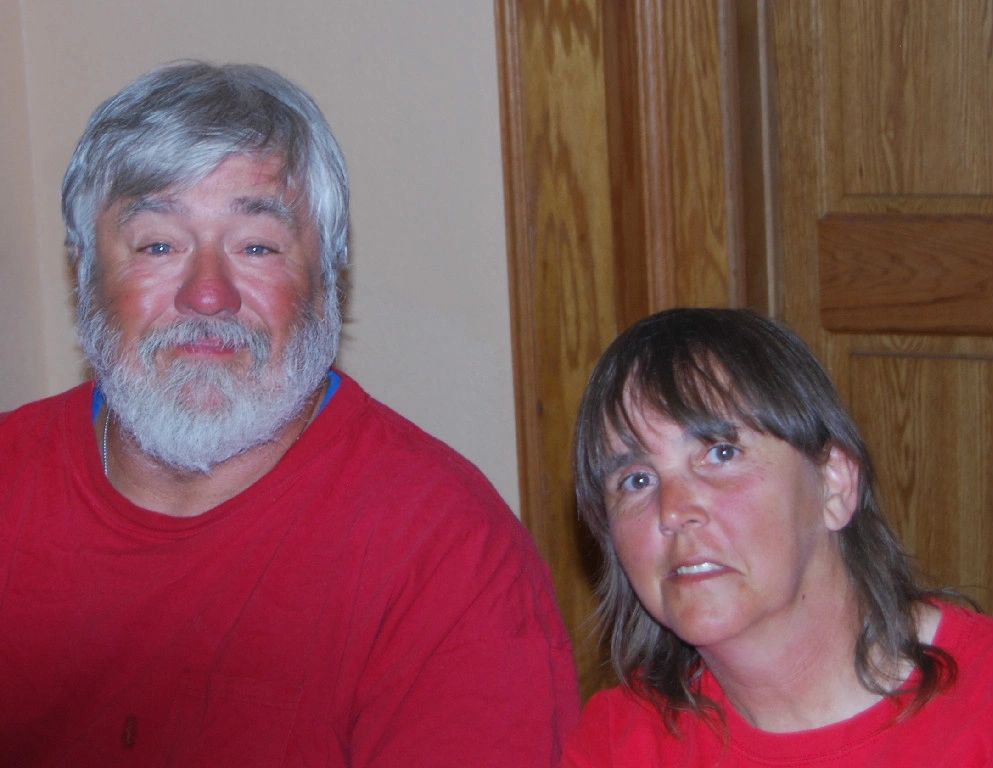 Jerry and Arleen Meyer joined us from close to home in Loraine, Illinois. Let them know how proud you are of them for making the trip. Send you message to jameyer@adams.net . Tell them to send me a Bio, if they already have, I lost it and they should send it again.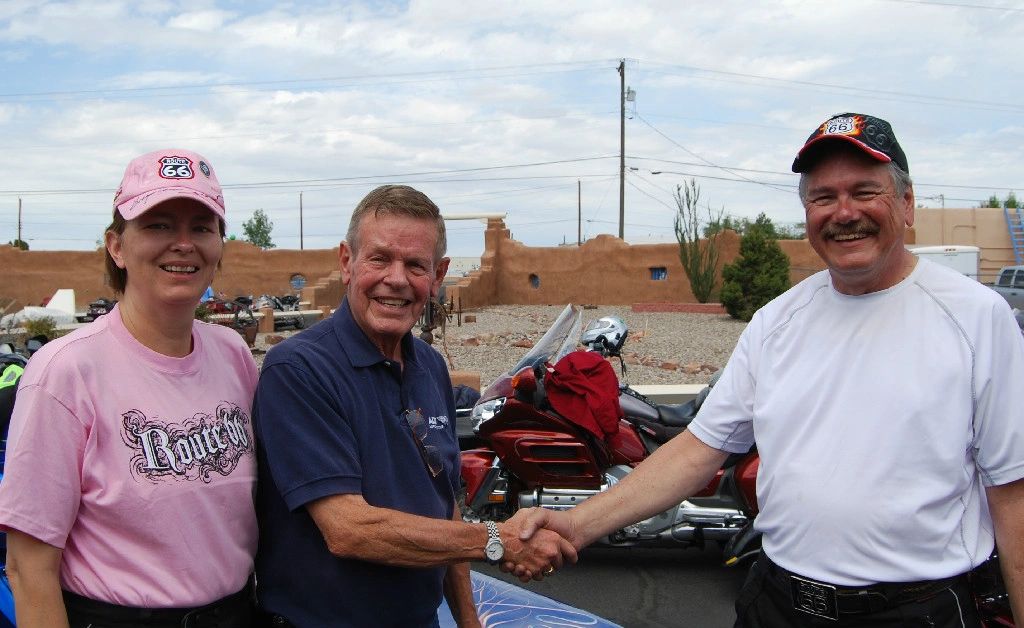 Talk about joining in and getting the most from a Ride, Rick & Di Coons had some great fun and a beautiful Motorcycle with a trailer now signed by Bobby Unser. They joined the Ride from Bloomington, Illinois.

Hi, we are Rick and Diana (Di) Coons from Bloomington, IL and we are thrilled to be members of the All the Way Gang in 2012. We will celebrate our 38th wedding anniversary on the way home from Santa Monica. We have two sons, Eric and Micheal. No grandchildren yet, but Eric has a lovely wife, Stephanie, so who knows? Rick began riding when he was in the service, but hung up his keys when our first son was born. My fault - I just couldn't see how we could continue riding with a little one and I wanted to go, too! So, after 26 years, Rick bought himself a Goldwing as a pre-retirement present and we've been back to riding the past 3 years. Rick retired in early 2010 after 37.5 years in IT at State Farm Insurance. I just retired this past January after 24 years in accounting - also with State Farm. This is our second time riding Route 66. We made a good effort going solo in 2011, but we missed a lot. This ride has been amazing. We've made new friends, seen wonderful sights, and improved our riding all while contributing to a worthy cause. We've both lost loved ones and friends to this horrific disease. Thank you, Rodger, for the Ride and thank you to all the riders and sponsors for making a difference.
Send them an eMail at galina57@yahoo.com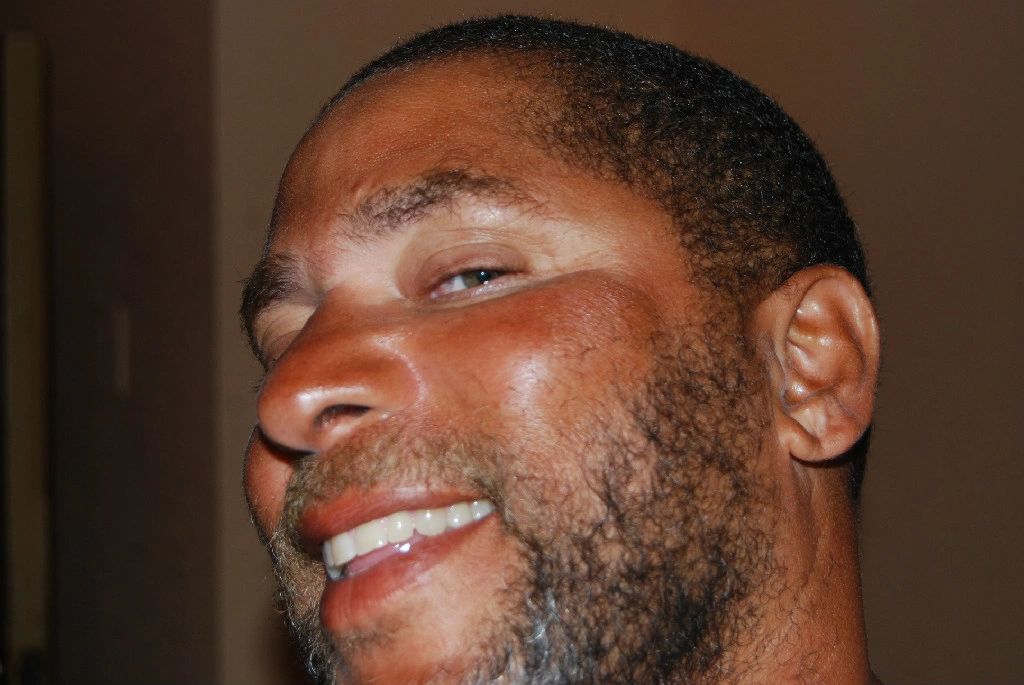 Bruce Williams (the prince of the Parking lot Party) joined us again from Winston-Salem, North Carolina. This is the second time Bruce has joined us and hope it isn't the last time. He seams to add something to the trip, come with us and find out what. I would like to have a new Bio on Bruce. So send him a note and congratulate him on the trip and tell him to send in a new Bio:
buffalosoldier@triad.rr.com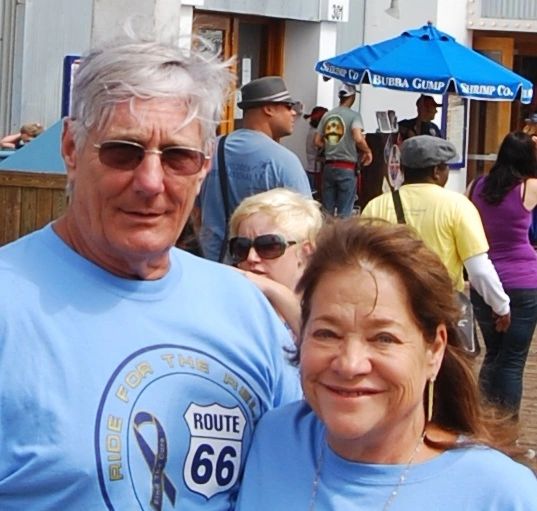 Larry & Suzi Krack, Evansville, Indiana were a real pleasure to have along and we hope they will consider coming along again. I would love getting to know them better. Send them a note at suzik@insightbb.com and let them know how proud you are of them and tell them to send me a Bio, and if I already got one, well I lost it so please send another one.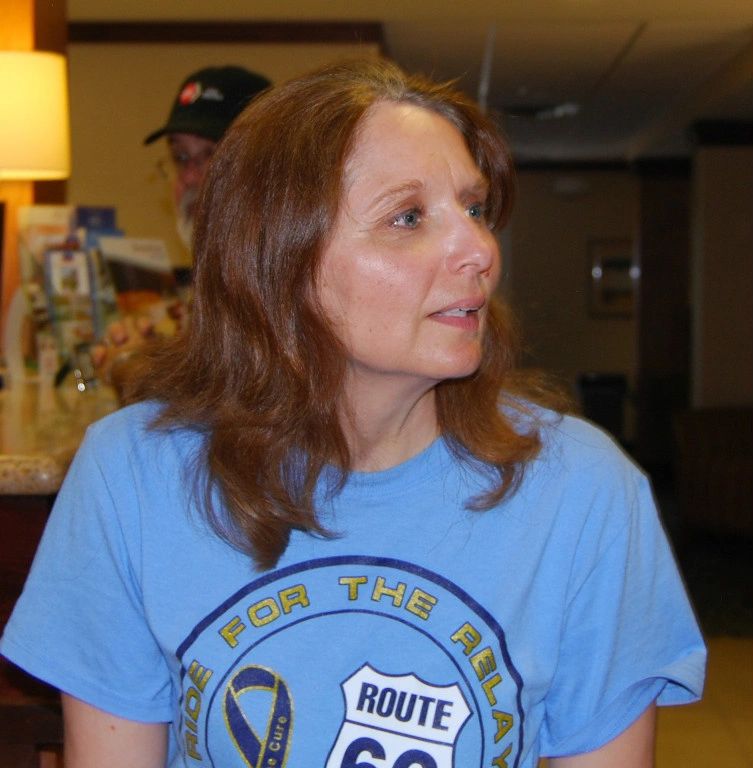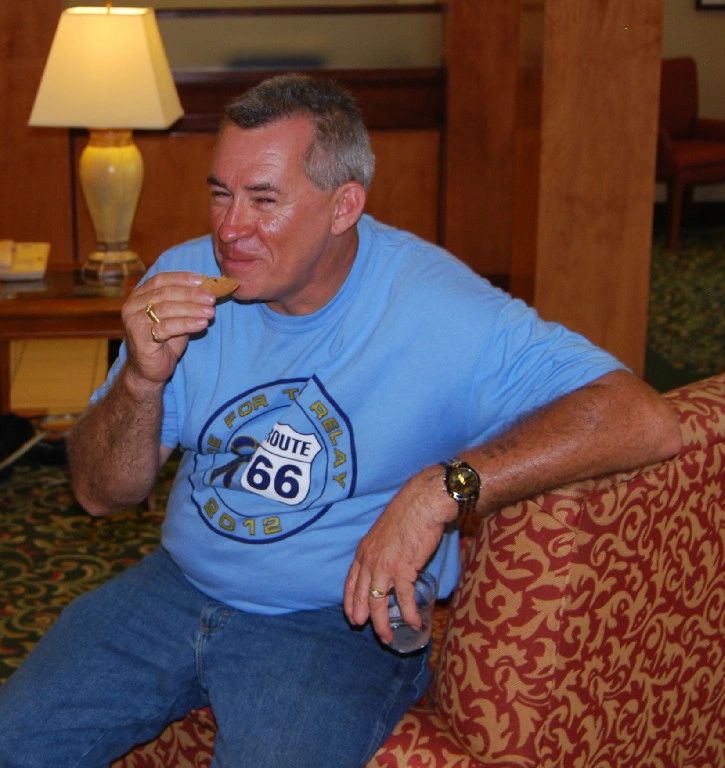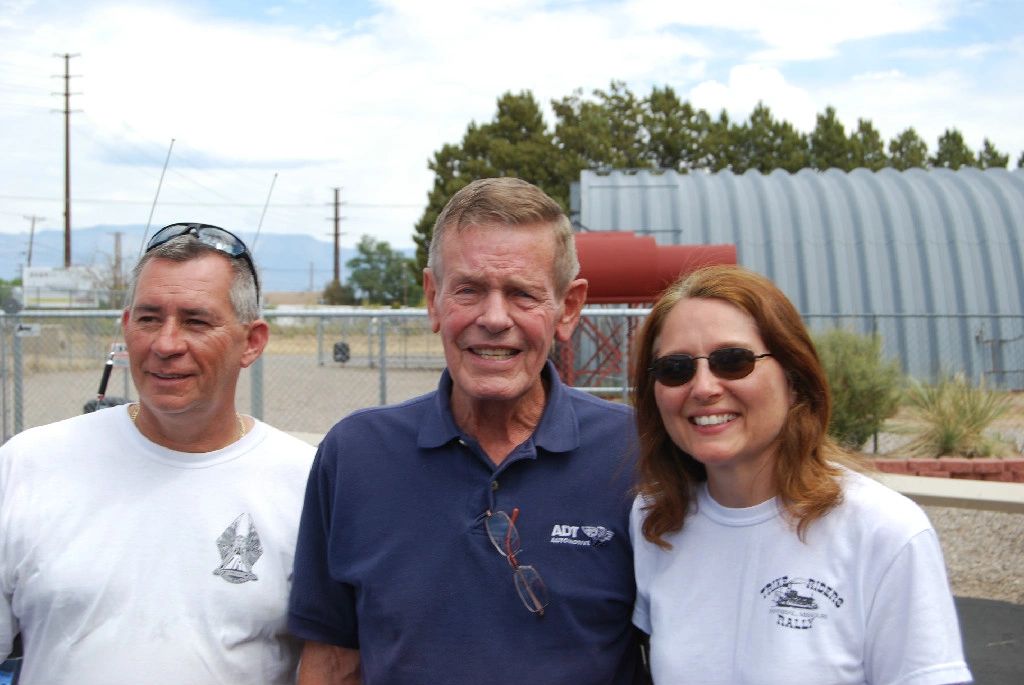 Ron and Deb Nollen were a blast on the trip. They joined us from Hartland, Wisconsin. These guys were fun as you can tell from the above photo where Ron was getting the look and then the two of them with Bobby Unser, we all had fun. Send them a note at rnollen@wi.rr.com . Guys send me a Bio.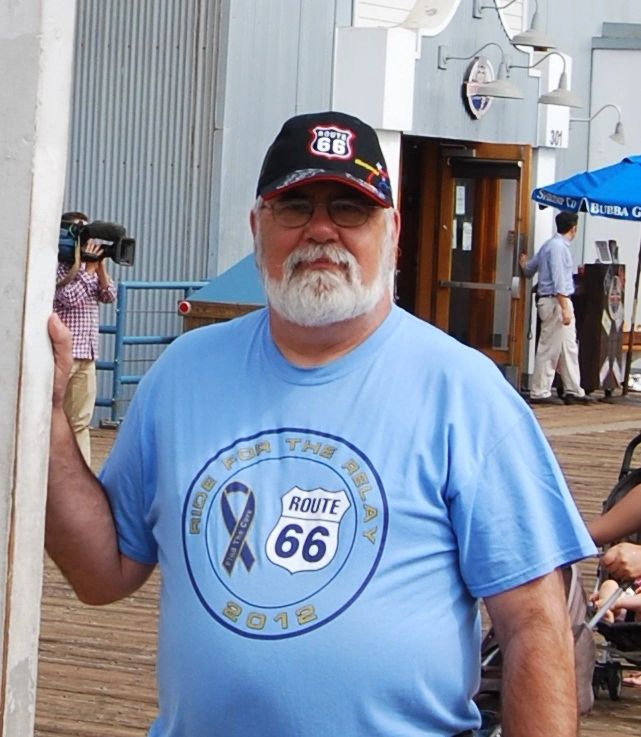 Ernie was born in Brithsh Columbia and as a teen moved with his family to Manitoba where he finished his high school. After high school Ernie took a job at the Credit Union in his home town of Winkler. In April of 2011 Ernie retired from that Credit Union after almost forty two years service. Ernie has been married to Mary for forty one years. They have three grown children and so far four grandchildren. In 1988 Ernie joined the Winkler Volunteer Fire and Ambulance Service. He managed the Ambulance service for five years. After the Regional Health Authority assumed control of the Ambulance Service in 2000 he still continues with the Fire Service as an Instructor and Pump Operator. Ernie rides mostly one up as Mary's back issues allow her only short rides. With the shortened Canadian riding season Ernie and Mary are trying their hand at being snowbirds in Mesa Arizona. Hopefully it will not be their last.

Ernie was our first Rider from Canada to register for the Ride for the Relay. We are proud to say he is now part of the All the Way Gang. It was a thrill to see Ernie again on the 2012 Ride. Let Ernie know what a great thing he has done, his eMail is: emfroese@mymts.net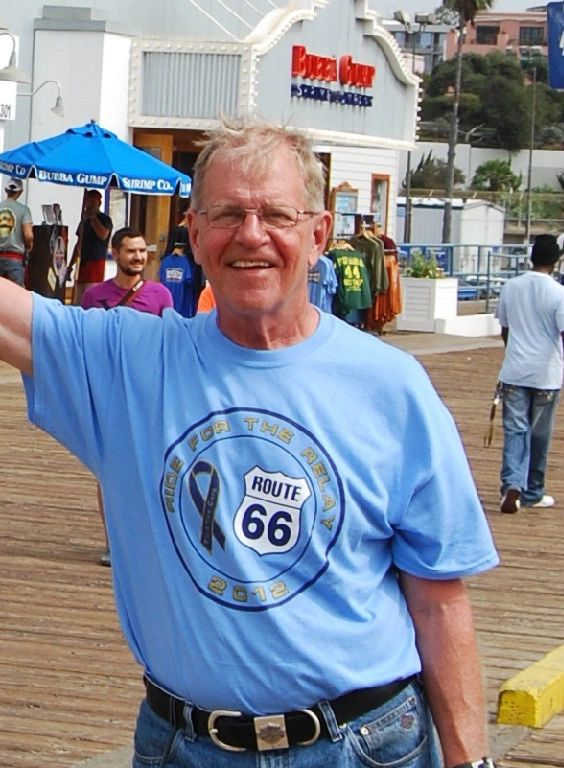 Tom Holdhusen come with us from Ipswich, South Dakota after hearing about our ride from our Oldest All the Way Gang members Dean Mehlhaff. Tom was a blast and I hope to see him again on the Ride, I know that Harley can make one more trip and I like the sound of it (did I say that?). Let Tom know he did a great job, send him a note and thank him for his help at tlh@valleytel.net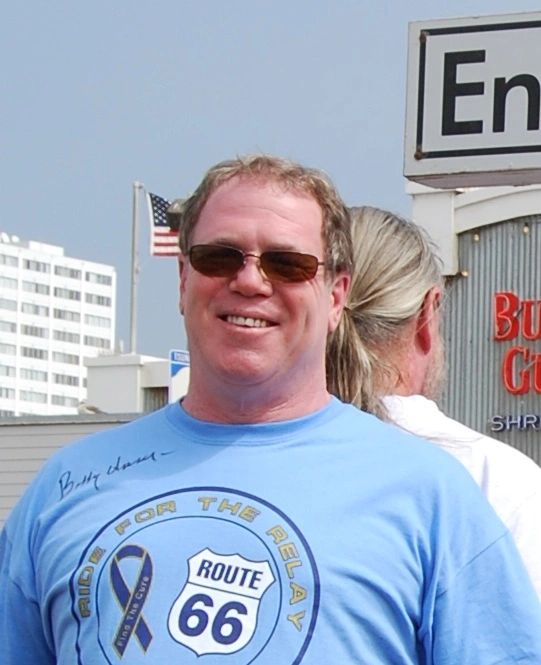 Greg Bridgewater was a real asset to the ride. The real thrill with Greg was how much he was enjoying himself, that is what this ride is all about. Greg is from Mt. Vernon, Illinois but is going to spend much of the winter in Florida, have fun Greg and get me a Bio. gab5@live.com