Another really great year and we set all kinds of records for the Ride for the Relay. The coolest weather we have ever had, the most rain we ever had (2 days I think), more riders than we have ever had, more members of the All the Way gang (55) than we have ever had and we collected more money (+$29,000) than we ever had. Yes it was a record year, thanks to all the sponsors, riders and those who just really care about our cause.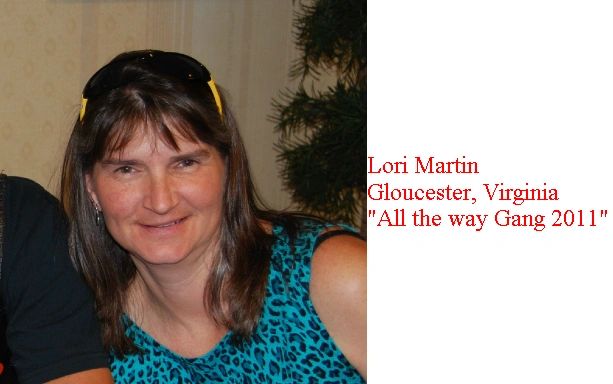 Lori Martin is the Daughter of Ed and Ann Tokarz and traveled with Mom and Dad and the rest of the gang in her Pickup Truck all the way. She was so quiet we almost forgot she was along but she had a good time. I will bet a Bio and eMail address from her and you can write her and tell her how proud you are of her.
I have been married to Dee for 36 years. Between us we have 5 Children, 12 Grand Children and 6 Great Grand Children. I worked most of my life for General Motors. I started as an hourly employee and worked my way into management. I retired as a Senior Supervisor after 40.6 years. Dee worked most of her life in the restaurant business, helping her Aunt with her restaurant. She also drove a School Bus a few years, worked in concessions at an out door theater and more recently worked as a manager at our local Moose Lodge before she retired.
Our first Ride for the Relay was like living a dream. We both grew up with the TV series Route 66, and for years we'd see the "Historic Route 66" signs along Interstate 40 on our many trips out West. We've seen the sites and taken the pictures but it's the people that keeps us coming back now. In Chicago we're all strangers, by Albuquerque we're friends and by the time we reach Santa Monica we feel like we have new family members. We met folks on that first ride we keep in touch with to this day and hope we always will.
This makes our third trip down the Mother Road. The first two trips I was riding a 1986 Aspencade. We sold it and bought our 2006 White Wing, we call our DanDee Bike. Dee has met us in Joplin each year and followed us to the coast in our car. The first two years, one of our Grand Daughters went with her. This is the first year she had to drive alone, I'm real proud of her. I was afraid she wouldn't enjoy it and we'd have to cut the trip short. If you ask her she'll be real quick to tell you she wasn't alone. She had a bunch of motorcycles and a green jacket "Mike" to keep her company.
If anyone would have ask me in Colton, CA last year if I would do it again the answer would have been NO. If I'm ask the same question next Aug 15, 2012 it may be different. I can't stand the though of our friends going to the Navy Pier or Santa Monica Pier without us.
Ride safe and God Bless You All. Dan & Dee Calhoon
I am 60 years "young" and this is my second time on the Route 66 "Ride for the Relay" with Rodger L. Fox. I had the support of my girlfriend (Betty) and family members while on this Ride.
I would tell everyone that they should go on the Route 66, "Ride for the Relay". This year was especally good for me because my son, Matt, was along and together we made many new Friends.
I enjoyed taking this trip with my dad (Gary Indorf). I enjoyed meeting new friends all along the way.

Paul is our Jeep man and really a great guy. Last year he helped a great deal with the law enforcement on blocking intersections and just making the public on the road see us. Not only did he do that this year but also become a great photographer. Great pictures Paul, I have a spot for you next year and I need your Bio. Also I don't know where the green come from, just special for Paul I guess.

Bobby has become a good friend to everyone on the Ride. Bobby lost his first wife of 36 1/2 years to cancer and has been married to his second wife (Dixie) for 12 years. He has two children, 5 grandchildren. Bobby spent 48 years in the Texas oil fields and finally retired. He has been riding for 62 years. Bobby and Dixie have rode all 50 states and some of Canada.
In Rodger's words:
Bobby has become a real part of the Ride for the Relay and his wife Dixie says she will ride it next year, back pain and all. You will be able to meet Bobby and Dixie at our 2012 Banquet in Feburary.
Jerry has been married for 42 years, has two sons and two grandchildren. He retired in 2007 from SKF Bearings in Jamestown, NY. He has been riding for 13 years. He and his wife moved to Colorado in July 2008 and Jerry first become part of the All the Way Gang in September 2008. Jerry has become our Santa Fe, NM tour guide and a very close friend.
Jim has been married 51 years, has 4 children and 7 Grandchildren. Jim has retired from Oilgear Company, Milwaukee, MN. He started riding 53 years ago. He flew Fighters in the Marine Corps and this Ride for the Relay is almost as much fun.
This was Pat and Bill's first year to ride and become part of the All the Way Gang. I need their eMail address and information for their Bio. So Pat and Bill help me out here.
We are Ed and Susan Roberts from East Alton, IL. We are both newly retired. Ed worked 34 years with Marathon Oil Co., and Susan 20 years with Roxana, Illinois JR. High Special Ed.
We ride with (CMA) Christian Motorcycle Assoc, and 2 GWRRA Chapters.("E" Litchfield) and ( "O" Collinsville, IL).
We enjoy riding our 2010 yellow Honda California sidecar trike, together. Ed also rides a 2005 blue Honda 1800 goldwing, plus his 750 Honda Shadow Aero.
Being married 36 years we've been blessed with 2 adult children, 2 grandchildren, and a grandpuppy.
The Rt. 66 Ride for the Relay trip is a lifetime memory, and a new family we're pleased to be apart of. We met so many friends on this trip, and think of you often. It is amazing how motorcycling can bring us all together. We shared God's creation, and helped the cancer cause. God bless!
Jim and Jean had been wanting to do this for several years and they finally did it. Send them an eMail at
jnjd@att.net
and let them know how proud you are of them. Jim and Jean I need a Bio from you to put on here so everyone knows just who you are.
This was Russ & Pat's first year, send them an eMail and congradulate them at
green-atv@live.com
. Pat please send me a Bio so I can post it on here.
Ron and Virginia made it all the way and I don't have their eMail address or a Bio. Ron & Virginia help me out here or anyone with their eMail.
Keith is a proud member of the 2011 All the Way Gang, send him an eMail and let him know how proud you are of him at
keithkimandkainen@hotmail.com
. Keith I need you to send me your BIO.
I am Paul Dettmer, have been riding for 35 years, have rode most of the lower 48 and live in West Columbus, Indiana. We enjoy riding with our Gold Wing Road Rider Chapter "W" members and that is how I become involved with Rodger Fox. I am 68 Years young. Spent 4 years in the Navy on the Destroyer "Ernest G. Small D.D.R. 838". We spent most of our time off the coast of Vietnam. My wife (Gloria) and I will be married 27 years on the 27th of April, 2012. I have two children (one son and one daughter) and Gloria has two children (one son and one daughter) by our first marriages and two grandsons. One son is a Navy Doctor, stationed in San Diego, CA. The other is a manager for an office supply place and works parttime with Lucas Oil Racing. One daughter is a Dental Assistant and the other works at the Indianapolis Airport, manager of four stores in the airport. I worked at Cummins Engine Company in Columbus, Indiana for 40 years and 9 months. I was a machine operator, fork truck driver but mostly a machine repair journeyman. I retired on the last day of April 2003. My wife and I run a Wedding and Specialty Cake business part time to use as our Riding Money. Have to have Bling Bling ever once in awhile. HaHa. I truly enjoyed the Ride from Pier to Pier and Old Route 66 is very interesting and has much to see along the way. It was a well planned and thught out ride. Rodger and his Staff should be commended for a job well done, many thanks Rodger, Best Wishes.
Send Paul an eMail at
gloriadettmer@gmail.com
and tell him how proud you are of him and tell him to send me a BIO for this web site.
BIO: 1973 was the year for everything almost. I turned 18 March, married April, and graduated in May. Denny and I spent 3 years as newleyweds before having our first child, a girl. Six years later a son came along. We are blessed both of them live within 45 minutes of us. Our daughter has blessed us with a grandson and then 5years later a granddaughter.
Dennis and I were advid motorcyclist for over 30years. We belong to the CMA organisation but had to hang the bike keys up because of health issues. Dennis has a bad arm and cannot handle the iron horse anymore. At this time in our lifes we are both retired and in the summer time you can find us on poker runs with our friends, we chase behind their motorcycles with our street legan dune bug, or our Manx. You can also find us someplace with our grandchildren. Our grandson(15) is active in ROTC Navy, and our granddaughter (10) is an all year soccer star.
We have both lost someone to cancer, my parents, and his mother. In my family cancer is so promnent that all of my mothers 9 siblings have had cancer, and several of my cousins have also had it. I myslef have dealt with skin cancer numerous times.
I would strongly advise for anyone that has not been on this trip to go on it! The money goes to a great cause, and the adventure is one that you will never forget. Dennis and I have met some great people on this trip that we have kept in contact with and they will be our lifetime friends. We plan to go on it again if the stars are aligned for us to do so.
Mary and Dennis made it all the way and was a big help to me and I hope more help in the future. Let them know you are proud of them for making the Ride all the way. Their eMail is
vemmalogsdon@hotmail.com
Roger is now offically part of the 2011 All the Way Gang. Roger, I need a Bio on you and a promise that you will go again next year. Send Roger an eMail and let him know how proud you are of him at:
rlmarling@hotmail.com
Bio for Robin and Angela Spurgeon: Robin and I have been married for just over a year. Together we have 5 children. Robin has Kristy, Steve and Brooks and I have Abigayle and Alizabeth. We also have 7 wonderful grandchildren.
Robin does backhoe work in the summer and car repairs in the winter. Until recently I worked in Social Service positions. Currently I am working on being the best housewife. (smile)
We love to ride our Harley as often as possible. Robin is way more dedicated to riding than I am. He laughs when people ask if he puts it up for winter. I on the other hand will pass on the opportunity to ride if it's not at least 50 degrees out. We love to go to bike rallies whether they are a few miles away or a few states away. Last year we got married in Sturgis South Dakota!!
This Route 66 ride was a once in a lifetime opportunity that I hope we get to do again!! A wonderful cause, great group of people, and memories to last a lifetime!
Here is what I have to say
: We want to see them at the Banquet and on the 2012 Ride for the Relay. They are now official members of the All the Way Gang 2011. Let them know how proud you are of them and send them an eMail at:
angela_kincaid@hotmail.com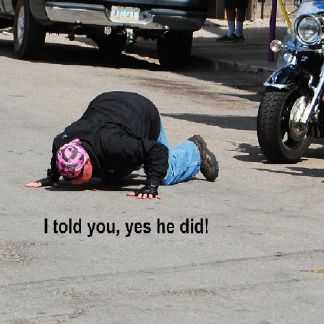 What a great pleasure it was getting to know Mike and Pam. I am so very happy they have become a member of the All the Way Gang.
Here is what they had to say:
We are Mike and Pam Olson ages 64 & 57, married 36 years, 2 wonderful girls who are married, (Shelly & Kim) 6 grandchildren, 4 girls and 2 boys their ages range from 11 months to 23 yrs. I have been riding for 20 years off and on, Pams been riding for 3 yrs and handles our trike as well as I do. I retired in 2004 and Pam for the last 17 yrs has had her own Bookkeeping and Tax Service. We have 1 little white Westhighland Terrier who loves to play and give you kisses. We have literally traveled all over the world while being in the ministry making memories and seeing Gods creations, but nothing in our wildest dreams could have prepared us for the beauty that God has created right here in the U.S.A. especially out west and for all of the great people we meet on this journey. This whole thing started for us about a year ago when my brother-in-law mentioned something about going on a 12 day motorcycle ride down some old road called Route 66 (Old Truckers Road). Well needless to say
"WOW"
what a time. Didn't know what to think first couple of day's as the road was pretty rough, but after that we started settling in. As we got to know more and more people (Rodger, Steve, Jim, Richard, Mike and John just to name a few) we started relaxing more and just taking everything in that we could. We even had a bus load of tourist from overseas wanting to get their pictures taken
on
our trike (we ride a Black Yamaha Trike) sorry Gold Wingers maybe next time. Pam and I have asked if we would do this adventure again, to that we reply, Gad gave us the strength the first time and we are very proud to say that we are a small part of a group of people called
"The All the Way Gang"
you need to go and make your own memories on Route 66. Who knows, we might just see you down the road, maybe in Oatman, AZ where I hear they need a street sweeper. (sorry, inside joke) or at Maggie's in Madrid, NM. Signed (Donkey Boy & Sidekick)
Kicking Cancer on Route 66
. What I have to say: Let Pam know how proud you are of her for becoming part of the All the Way Gang and let Mike know how proud you are of him for being the first man to kiss the Blacktop Road in the middle of Oatman, AZ, the eMail is:
mlolson181@yahoo.com
My wife of 37 years, Esther, and I raised a son and daughter in a small rural village in southwest Ohio. Our kids gave us 5 wonderful grandchildren whom we enjoy spending time with. I became a Respiratory Therapist after graduating from high school and used my education in a variety of scenarios: 17 years in hospital care, 6 years in home care, and almost 20 years as a pharmaceutical rep. For the past 14 years, I have used my education to help manage my own healthcare. In August of 1998, I was diagnosed with squamous cell carcinoma of the head and neck. Subsequently, I had 4 more cancer episodes that required radiation, chemotherapy and the removal of two whole lobes and a partial lobe of my lungs. Needless to say, my respiratory function has been very much compromised. Yet, my motto for living remains "I am grateful. Thank you God." Riding my motorcycle is one of the best therapies for me as I continue to battle my physical situation. I finished 2011 with over 19,000 miles logged on the odometer. The "Ride for the Relay" will always be at the top of the list of all the trips I have taken through the years. Not only is it a cause close to my heart, but I will always treasure the new friends I met, and I hope my wife can also meet many of these friends soon. We have an open invitation to all of the riders to stop in and stay with us if you are traveling through our area. I really was not prepared for the emotional highs and lows I experienced on this trip, and at first I thought I would make it a once in a lifetime event. However, I'm finding out that I want to do it again. A special thank-you to Jerry Thelander, my room-mate, for all the assistance and concern he gave me on the ride. And another special thank-you to Keith Hall for fixing my broken hitch. Paul Dettmer, Robin and Angie Spurgeon, Mike and Pam Olson, Roger Marling...thank-you for welcoming me into your group. Enough can't be said to match the hard work and kindness of Rodger Fox in coordinating this ride.

A word from Rodger:
There are so many things I would like to say about Richard but I will just say he could very easy be the Poster Child for what the Ride for the Relay is all about. I will wait to get Richard's Bio so that I know I have all the information correct about this wonderful man. I will say I am proud to have had Richard with us, our first person on Oxygen while riding and several other first. Richard congratulations on becoming a part of the All the Way Gang 2011, please send Richard a note and let him know you are proud of him also: richard.e.neer@gmail.com



Roy and Virginia Staeger (finally "All the Way Gang 2011"). Roy has been my main man in Missouri for several years, he lines up the police escort into Springfield, gets everything put together for our lunch at Kentwood Hall and much much more. Of course Virginia has been my main woman in Missouri. I do have a Bio on them and here it is: We have been married for 42 years, have one daughter who is Director of Disability Services for Missouri State U, one son who is Detective Sgt. for Greene County Sheriff's office. We have 6 grandchildren, 3 boys and 3 girls. Virginia has worked as a multi-county Library Supervisor, Sales and her biggest and best job was a Mother. We began riding in 1999, my first bike was a Honda Magna and Virginia's first bike was a Yamaha Route 66. For the past 5 years we have ridden portions of the Ride with 2009 being the year Virginia riding the 600 Shadow from Springfield, MO to Needles, CA. This year (2011) we sold our Bikes and bought a trike making the deciding to become members of the "All the Way Gang 2011" with each of us sharing in the driving. We have made some great friends while helping raise money for the American Cancer Society. Would you do it again? Everything working out...Yes. Send them a thank you at: mywing@mediacombb.com



David & Anita were just a bunch of fun, although I could not under one word Anita said. :-) I just hope they had enough fun that they will go again. Anita, I need a Bio on you guys so everyone can know all about you. While we are waiting on a Bio send David and Anita and eMail at agwbarlow@aol.com and let them know how proud you are for all they have done to help us find a cure for cancer.


Part of the many riders from Ohio to become members of the All the Way Gang, let them know how proud you are of them and eMail them at jlenle@roadrunner.com Nancy, I need a Bio on you and John.



We are so happy to have another couple to become All the Way Gang members from Virginia. Let Jack and Ruth know that you were following them on the whole trip by writing them an eMail at rpwitt@embarqmail.com . Ruth please send me you Bio.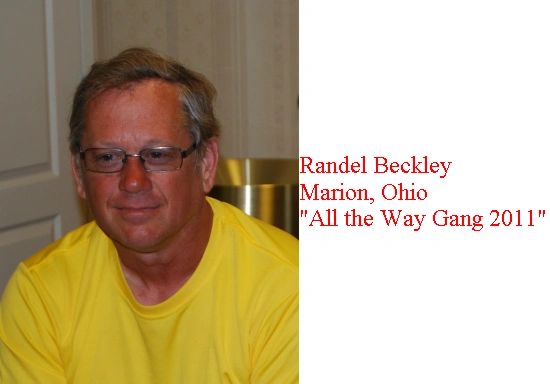 Randel is a part of that Ohio group and who we enjoyed having with us. I think he enjoyed the ride as much as we loved having him. I don't have an eMail address for Randel but if you want to give a big hi'five for being a part of the All the Way Gang go to our Guest Book and leave him a message. Randel please send me a Bio and what do you think about going next year.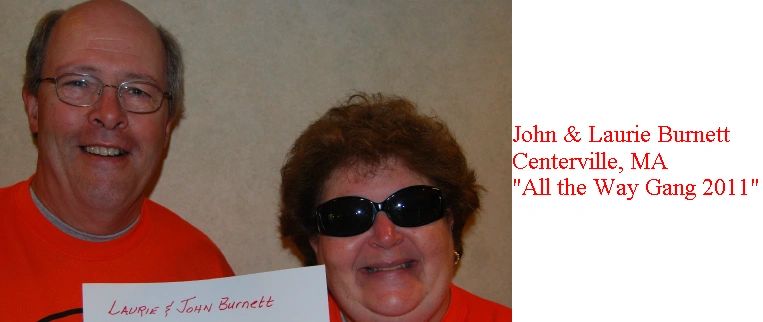 With over 20 sponsors supporting them, John & Laurie were a real asset to the 2011 Ride for the Relay. I am privileged to have them as a part of the "All the Way Gang 2011". Now John & Laurie please send me a Bio. If you would like to congratulate them their Ride eMail is: laurie.s.burnett@gmail.com



Steve & Paula are another couple from the Massachusetts area that had more than 20 sponsors and was a big part of us reaching our goal. What a great couple. I wish everyone would send them an eMail and congradulate them on a job well done: STEVE - sasretired@yahoo.com
PAULA - prsheaffer@verizon.net



Marie & Craig are also members of the "Pier to Pier to Pier" group from Massachusetts area. What fun they were and we are really hoping they and all the group come back and join us in 2012. But first of all I need a Bio on them, so send them and eMail and tell them to get their Bio in and also tell them how proud you are of the great job they did: crjohnsoninc@comcast.net or auntietv@hotmail.com



Mike Spivack not only become a member of the All the Way Gang 2011 but also become a true to life Route 66 Roadie with this great Route 66 Tattoo. Mike is a retired computer consultant. He lives in Cape Cod, Massachusetts with his wife Carolyn. Here is what he had to say: "The Ride for the Relay out and back were the best riding adventures I HAVE EVER HAD. Route 66 has definitely left it mark on me (there are photos somewhere of the Route 66 tattoo). Would I do the Ride for the Relay again.....you bet I would. All I need is a kitchen pass". Here is what I have to say: Mike I have your 2012 kitchen pass ready, please pick it up in Chicago, Illinois September 1, 2012. Encourage mike to get more Tat's next year by eMailing him at: m_spivack@hotmail.com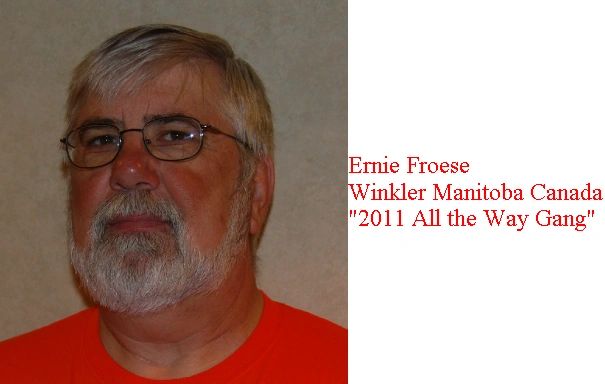 Ernie was born in Brithsh Columbia and as a teen moved with his family to Manitoba where he finished his high school. After high school Ernie took a job at the Credit Union in his home town of Winkler. In April of 2011 Ernie retired from that Credit Union after almost forty two years service. Ernie has been married to Mary for forty years. They have three grown children and so far four grandchildren. In 1988 Ernie joined the Winkler Volunteer Fire and Ambulance Service. He managed the Ambulance service for five years. After the Regional Health Authority assumed control of the Ambulance Service in 2000 he still continues with the Fire Service as an Instructor and Pump Operator. Ernie rides mostly one up as Mary's back issues allow her only short rides. With the shortened Canadian riding season Ernie and Mary are trying their hand at being snowbirds in Mesa Arizona. Hopefully it will not be their last.

Ernie was our first Rider from Canada to register for the Ride for the Relay. We are proud to say he is now part of the All the Way Gang. I would like to see Ernie again at the 2012 Ride. Let Ernie know what a great thing he has done, his eMail is: emfroese@mts.net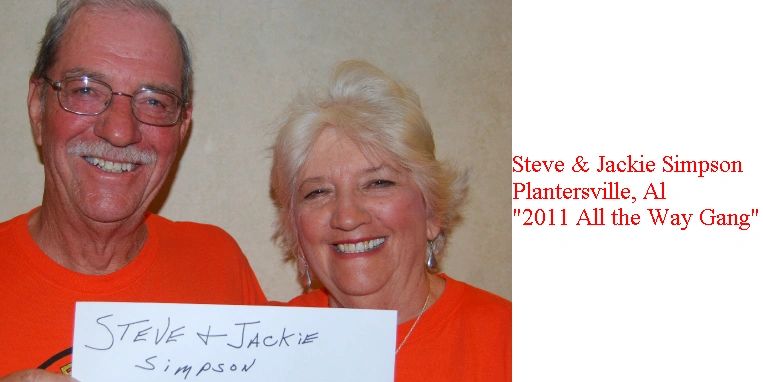 Steve & Jackie got my attention right away with that 3wheeler, I loved the color and alway let Steve know. We are very proud of Steve and Jackie, let them know that you too are proud by eMailing them at: sjpville@bellsouth.net . Now Jackie send me a Bio and get ready for the 2012 trip.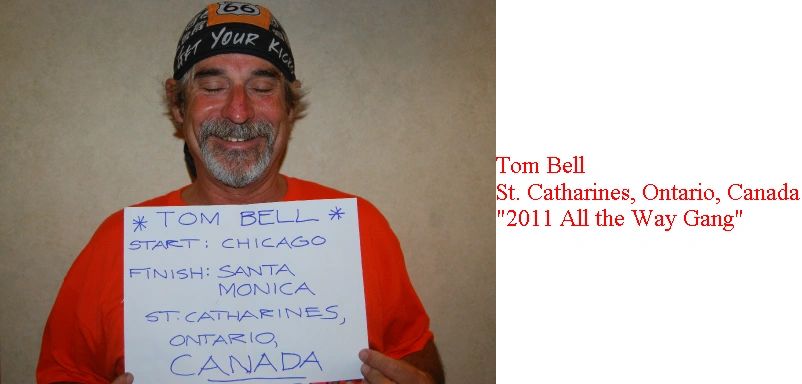 Tom Bell was quite a character and enjoyed by many. He left an impression on everyone and I think enjoyed by everyone for his free style of riding. I have no information on Tom because he never turned in any paper work. So if you have information on him please let me know. Tom if you read this get in touch with me please.


This year "Ride for the Relay", for the first time, sponsored a Fundraising Raffle. We had the drawing giving away a 55" Flat Screen TV (or $1,000) and the winner of the drawing and taking the $1,000 cash is Greg Hunsucker, Seymour, Indiana. In 2nd place and winning one of the i-pod is Pam Gallo and winning 3rd place and the other i-pod is Maggie Boc.